Sperm Banking
Sperm banking, also known as semen cryopreservation, is a technique used in fertility preservation to freeze a man's sperm for future use. Sperm banking can be a good option for men who may be facing medical treatments that could impact their fertility, such as chemotherapy or radiation therapy for cancer, or for men who are concerned about their future fertility due to age or other factors.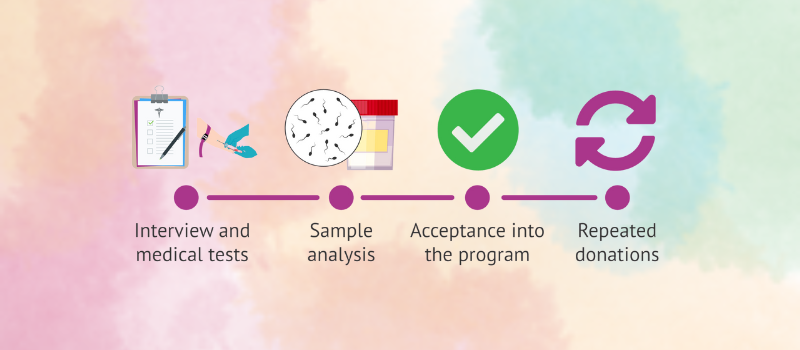 The sperm banking process typically involves several steps, including:
1. Semen collection: The man provides a semen sample through masturbation or by using a special condom during sexual activity.
2. Semen analysis: The semen sample is analyzed to assess the sperm count, motility, and morphology.
3. Sperm freezing: The sperm sample is cryopreserved using a process called cryopreservation, which involves adding a special cryoprotectant solution to the semen and then freezing it using liquid nitrogen.
4. Storage: The frozen sperm sample is stored in a specialized laboratory until it is ready to be used.
Our experienced fertility specialists at Fertilica can provide personalized guidance and support to determine if sperm banking is the right fertility preservation option for each patient based on their individual needs and medical history. Our team is dedicated to ensuring that patients have a positive experience throughout the process.

Frequently Asked Questions
1. HOW LONG CAN SPERMS BE FROZEN?
1. HOW LONG CAN SPERMS BE FROZEN? Sperms can be frozen upto 10 years. The longevity of the frozen sperm depends on various factors like sperm quality and storage conditions. Not all sperms can survive the freezing and thawing process equally well.
2. DOES FREEZING HARM SPERMS?
While freezing process itself does not harm sperm, the quality of sperm before freezing is a significant factor in the success of procedure.
3. WHAT IS THE IDEAL ABSTINENCE TIME FOR SEMEN COLLECTION?
The ideal time period of abstinence before semen collection is 3-5 days.
4. CAN SPERMS RETRIEVED THROUGH TESA OR MICRO-TESE BE FROZEN?
Yes, sperms obtained surgically either by TESA OR micro-TESE can be frozen.
5. WHAT IS THE COST OF SPERM FREEZING?
Sperm freezing costs around 10,000-15,000 INR per year and additional cost of any surgical procedures have to be considered.