IUI Treatment
Intrauterine insemination (IUI) is a type of fertility treatment that involves the placement of sperm directly into a woman's uterus during ovulation. This treatment is often used for couples who are struggling with infertility due to issues such as low sperm count, unexplained infertility, or mild endometriosis.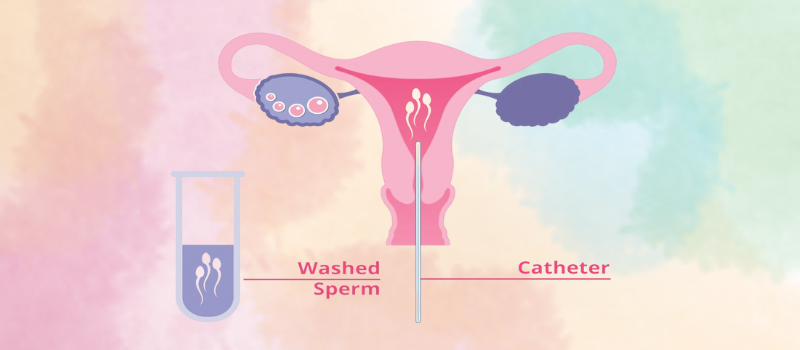 How and When IUI is Performed
Ovulation Monitoring: Before undergoing IUI, the woman's menstrual cycle is closely monitored to determine the timing of ovulation. This may involve tracking hormonal levels, ultrasound monitoring, or ovulation predictor kits.

Sperm Preparation: The male partner provides a semen sample, which is then processed in the laboratory. The sample is washed and concentrated to separate the healthy, motile sperm from the semen.

Insemination Procedure: During the woman's fertile window, the prepared sperm is introduced into the uterus through a thin, flexible catheter. The procedure is typically painless and takes only a few minutes to complete.
Advantages of Performing IUI
Increasing Pregnancy Chances

Overcoming Infertility Challenges

Non-Invasive Fertility Assistance

Enhancing Sperm Delivery

Cost-Effective Option

Preserving Natural Conception

Convenience and Minimal Disruption

Reducing Stress and Emotional Burden

Suitable for Mild Male Factor Infertility

Side Effects of IUI Treatment:
While intrauterine insemination (IUI) is generally a safe and well-tolerated fertility treatment, there are a few possible side effects to be aware of. It's important to remember that not everyone experiences these side effects.
Mild Cramping

Spotting or Light Bleeding

Discomfort in the lower abdomen
IUI is a relatively simple and non-invasive fertility treatment. The success rates of IUI can vary depending on factors such as age, the cause of infertility, and the number of treatment cycles. On average, the success rates of IUI at Fertilica are around 20% per cycle.
Overall, IUI can be an effective treatment option for many couples struggling with infertility, and it is often considered before more invasive treatments such as in vitro fertilization (IVF). The idea behind IUI is to ensure that there are enough sperms near the fallopian tube when the egg is released from the ovary during ovulation. At Fertilica, we provide individualized treatment plans and closely monitor each patient's response to treatment to maximize their chances of achieving a successful pregnancy.
Frequently Asked Questions
1. WHO SHOULD OPT FOR IUI?
IUI (Intrauterine Insemination) can be advantageous in the following situations:
1. Unexplained infertility ,where even multiple cycles of ovulation induction and timed intercourse is not helpful in successful pregnancy.
2. If having sexual intercourse is challenging, such as due to ejaculation problems or PSYCHOSEXUAL ISSUES.
3. WHEN A COUPLE IS DISCORDANT FOR HIV INFECTION , THAT IS ONLY ONE PARTNER HAS THE INFECTION.
4. WHEN DONOR SPERM IS INTENDED TO BE USED FOR THE INSEMINATION PROCESS.
2.WHERE, WHEN AND HOW IS THE SEMEN COLLECTED FOR IUI?
Typically, the semen sample is collected by ejaculating into a sterile, wide-mouthed cup. Ideally, you can use a room at the clinic, or any private setting for masturbation. If the clinic is nearby, the sample can be collected at home. It is important to deliver the semen sample to the clinic within about 30 minutes after ejaculation, when it reaches a liquid state. There is a time gap between dropping off the semen sample for washing and the actual insemination. The duration of this delay varies depending on the washing technique, which can take anywhere from 30 minutes to two hours, as well as the scheduling at the clinic. Most clinics aim to perform the IUI as soon as the washing process is completed.
3. WHEN IS THE BEST TIME FOR IUI?
Ideally, an IUI (Intrauterine Insemination) should be performed within a six-hour window around the time of ovulation. The usual timing for a single IUI is around 36 hours after the hCG injection, although some may choose to do it at 24 hours, and some clinics have reported better results when performing the IUI at 40-42 hours post-hCG. If two IUIs are scheduled, they are usually spaced at least 12 hours apart and conducted between 24 and 48 hours after the hCG injection. Some reports suggest that having two IUIs does not significantly increase success rates, but others indicate a potential increase of up to 6 percent. It is important to note that the viability of the egg is limited to a maximum of 24 hours after its release.
4.HOW LONG SHOULD I REST AFTER IUI?
You actually don't need to rest after IUI , but most doctors advise to lie down for 30-60 min as some women can have some crampy pain after IUI. After this period, you can carry on with your routine activities as usual.
5.HOW SOON AFTER IUI CAN WE HAVE INTERCOURSE?
Usually you can have intercourse anytime after IUI. Infact, it increases the chances of presence of sperms in the reproductive tract when the egg is released and inturn increases the pregnancy rates.