Non-Invasive Pre-Implantation Genetic Testing
At Fertilica, we offer non-invasive preimplantation genetic testing (niPGT) to our patients who are undergoing in vitro fertilization (IVF) and intracytoplasmic sperm injection (ICSI) treatments. niPGT can be used to screen for a range of genetic conditions, including Down syndrome, Turner syndrome, and other chromosomal abnormalities. Our skilled and experienced fertility specialists work closely with each patient to determine if niPGT is the right option for them, based on their individual needs and medical history.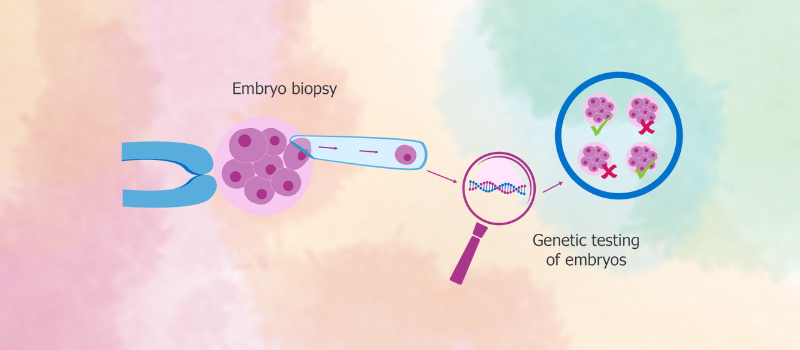 This cutting-edge technology allows us to screen embryos for genetic abnormalities before they are transferred to the uterus, thus increasing the chances of a successful pregnancy and reducing the risk of miscarriage.
niPGT is a non-invasive procedure that involves the analysis of genetic material obtained from the culture media surrounding the developing embryos. This allows us to detect chromosomal abnormalities without the need for a biopsy, which is the traditional method of collecting genetic material from the embryo. As a result, niPGT reduces the risk of damage to the embryo and increases the chances of a successful pregnancy.
niPGT has been shown to be highly accurate in detecting genetic abnormalities, with a sensitivity and specificity of over 95%.
At Fertilica, we are committed to staying at the forefront of reproductive technology and providing our patients with the most advanced and effective treatments available. Our objective at Fertilica is to assist our patients in realizing their goal of starting or expanding their family through the provision of individualized and empathetic care during every stage of the treatment process.

Frequently Asked Questions
1. HOW IS NI-PGT DONE?
In Non-Invasive Pre-implantation Genetic Testing (Ni-PGT), instead of physically removing cells from the embryo without the need for traditional biopsy, a small sample of culture media which contains cell-free DNA is collected at the appropriate stage of embryo development and sent for genetic analysis.
2. WHEN IS NI-PGT INDICATED?
Ni-PGT is useful in identifying the aneuploidies, that is abnormal chromosomal number. It may be useful in age related fertility concerns, recurrent pregnancy loss.
3. IS IT AS GOOD AT EMBRYO BIOPSY AND PGT?
The accuracy of NIPGT is 96% and that of Embryo biopsy is 99%.
4. WHAT IS THE COST OF NI-PGT?
The cost of Ni-PGT is around 20,000 INR per embryo. Talk to the fertility counsellor for detailed estimate.
5. DOES NI-PGT HELP IDENTIFY DOWN'S SYNDROME?
Preimplantation genetic testing helps to identify abnormalities in chromosomal number. Down's syndrome is due to an additional chromosome 21. There Ni-PGT helps us identify the extra chromosome and prevent transfer of such affected embryos, thereby preventing Down's syndrome.