Embryo-Biopsy And Pre-Implantation Genetic Testing
Embryo biopsy and preimplantation genetic testing (PGT) are advanced techniques used in reproductive medicine to screen embryos for genetic abnormalities before they are transferred to the uterus during in vitro fertilization (IVF) treatment.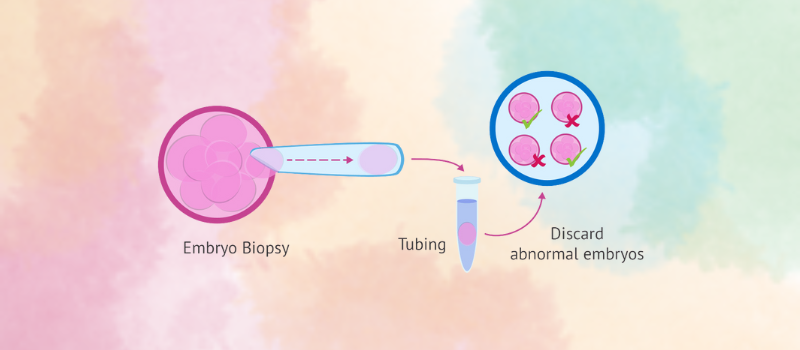 Embryo biopsy involves the removal of a small number of cells from the developing embryo, which are then analyzed for genetic abnormalities. This can be done at different stages of embryo development, including on day 3 or day 5 of development. The cells are typically removed using a specialized micro-needle under a microscope, and the biopsy procedure does not harm the embryo.
Preimplantation genetic testing (PGT) is a technique used to screen embryos for specific genetic conditions, such as chromosomal abnormalities, single gene disorders, or structural rearrangements. There are different types of PGT, including PGT-A (aneuploidy screening), PGT-M (monogenic/single gene disorder screening), and PGT-SR (structural rearrangement screening).
PGT can be performed on the cells obtained through embryo biopsy, and it enables the selection of embryos with normal genetic makeup for transfer to the uterus. This improves the chances of successful pregnancy and reduces the risk of genetic disorders in offspring.
At Fertilica, our experienced fertility specialists can assess each patient's medical history and individual circumstances to determine if embryo biopsy and preimplantation genetic testing are appropriate for their specific needs.

Frequently Asked Questions
1. WHAT IS PGT?
Preimplantation Genetic Testing is an optional lab test to screen embryos formed through IVF for specific genetic or chromosomal abnormalities before they are transferred to the uterus.
2. ARE THERE DIFFERENT TYPES OF PGT?
There are thre types of tests possible on the embryos:
PGT-A: Preimplantation Genetic Testing for Aneuploidy to screen embryos with abnormal number of chromosomes. Eg: Down's syndrome(trisomy 21)
PGT-M: Preimplantation Genetic Testing for Monogenic disorders to identify embryos affected by a specific generic disorder that runs in a family. Eg: Thalassemia, Sickle cell syndrome, BRCA, Cystic fibrosis.
PGT-SR: Preimplantation Genetic Testing for Structural Rearrangements like deletions, inversions, translocations. Eg: DiGeorge syndrome
3. WHO NEEDS PGT FOR THEIR EMBRYOS?
PGT testing is needed for couples with known genetic disorders, couples with chromosomal abnormalities, couples with unexplained infertility, older couples or women or couples with previous chromosomally abnormal pregnancies.
4. HOW IS PGT/EMBRYO BIOPSY DONE?
During PGT testing, a few cells from embryos outer shell are removed using a laser at specific stages of embryo development depending on the type of PGT being conducted and sent for genetic analysis.
5. ARE THERE ANY RISKS TO MY EMBRYOS BECAUSE PF PGT?
There are some risks during PGT procedure like small risk of damaging the embryo, limited embryo availability, embryo mosaicism. These risks can be mitigated when done by an experienced operator. Talk to your doctor for more details.
6. WHAT IS THE COST OF PGT?
The cost of PGT- Embryo biopsy is around 25,000 INR per embryo. It also depends on the type of PGT test performed. Talk to the fertility counsellor for detailed estimate.