Couple Evaluation And Counselling
At Fertilica, we understand that infertility can be a difficult and emotional journey for couples. That's why we offer comprehensive evaluation and counseling services to support couples who are struggling to conceive.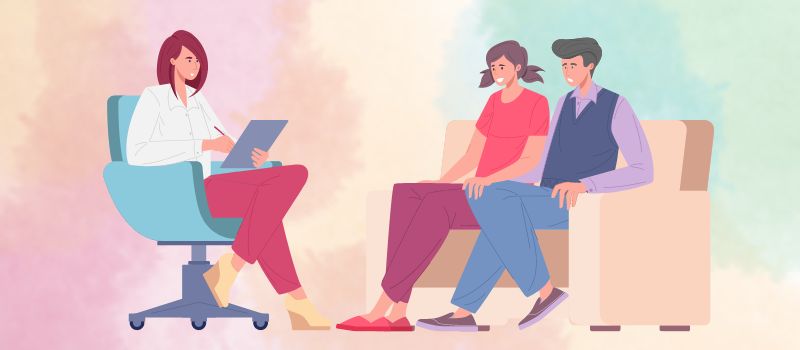 Our evaluation process includes a thorough assessment of both partners' medical histories, physical examinations, and laboratory tests to identify any underlying conditions that could be causing infertility. Once a diagnosis is made, we work with couples to develop a personalized treatment plan that takes into account their unique needs and circumstances.
In addition to medical treatment, we provide counseling services to help couples cope with the emotional stress of infertility. Our counseling sessions provide a safe and supportive environment where couples can express their feelings, explore their options, and develop coping strategies to manage the challenges of infertility.
At Fertilica, we are committed to providing compassionate and personalized care to every couple we work with. Our goal is to help our clients achieve their dream of starting or expanding their family, and we are here to support them every step of the way.

Frequently Asked Questions
1.WHEN SHOULD WE CONSULT A FERTILITY SPECIALIST?
Embarking on the journey of conception is an emotional and personal process. If you have been actively attempting to conceive for a year, or if you are 35 years or older, a period of six months is sufficient to prompt you to seek valuable medical guidance. Furthermore, if you possess a medical condition or have a history that could potentially impact your fertility, it is advisable to promptly consult a healthcare professional. This process warrants open communication with your doctor right from the outset.
2.DOES INFERTILITY ONLY AFFECT WOMEN? 
It is interesting to note that around one-third of fertility issues stem from males, another one-third from females, and the rest result from a combination of factors involving both partners. To uncover the reasons behind your difficulty in conceiving, it is important for both you and your partner to undergo fertility tests. These tests will help identify the specific factors contributing to your infertility and guide you towards the most suitable treatment options for your situation.
3. WHAT ARE THE CAUSES OF FEMALE INFERTILITY?    
Several factors can impact womens ability to conceive. One of the most common and significant factors is age. As women reach the age of 35 and beyond, their fertility starts declining rapidly. Other factors that can affect fertility include issues with ovulation, blockages in the fallopian tubes, abnormal growths or scarring in the reproductive system, problems with the cervix, sexually transmitted infections (STIs), or experiencing early menopause.
4. WHAT ARE THE CAUSES OF MALE INFERTILITY?
The primary reason behind fertility issues in men is the inability to produce sufficient healthy sperm. Male infertility can be caused by problems in sperm production, blockages in the reproductive system, difficulty ejaculating or maintaining an erection, or an imbalance in hormones. These factors can contribute to challenges in achieving pregnancy.
5. WHAT ARE THE TESTS I SHOULD EXPECT IF I GO TO SEE A FERTILITY DOCTOR?
When you visit your doctor regarding fertility concerns, they will usually start with basic and non-invasive tests. These may include physical examinations, blood and urine tests, ultrasonography, and analyzing a semen sample. If the cause of infertility is not immediately apparent, your doctor may recommend more advanced fertility tests to further investigate and identify the underlying reasons.
6. CAN LIFESTYLE FACTORS AFFECTS MALE FERTILITY ?
Yes. Smoking, excessive alcohol consumption, drugs usage, stress, prolonged exposure to high temperatures etc can negatively affect male fertility.
7.    WHAT IS MALE INFERTILITY ?
Inability of a male to impregnate a female partner even after one year of unprotected intercourse. Male infertility accounts for 30% of all the causes for infertility.
8. HOW CAN MALE INFERTILITY BE DIAGNOSED ?    
Male infertility can be diagnosed through comprehensive evaluation like : Semen analysis, Physical examination, Hormonal tests, Imaging studies and Genetic testing.
9. CAN IVF HELP WITH MALE INFERTILITY ?
Yes. IVF is a viable option for couples with male infertility. ICSI , a specialized form of IVF is particularly effective in cases of severe male infertility.
10. ARE THERE ANY SPECIFIC TESTS REQUIRED FOR MALE PARTNERS BEFORE IVF ?
Yes. Semen analysis is typically required before starting IVF. Additionally, hormonal tests and genetic screening may also be needed to identify any underlying causes.
11. WHAT HAPPENS IF THERE ARE NO VIABLE SPERM FOR IVF?
In cases of severe male infertility where no viable sperm are present in the ejaculate, sperm retrieval procedures like TESA, PESA can be performed and the retrieved sperm is used in conjunction with IVF-ICSI to attempt fertilization.
12. HOW DOES MALE INFERTILITY AFFECTS THE IVF PROCESS AND ITS SUCCESS?
The severity of male infertility can impact the IVF procedure and its success rate. If the sperm quality is very poor, it may reduce the chances of fertilization and embryo development.